West Wing Foyer & Meeting Rooms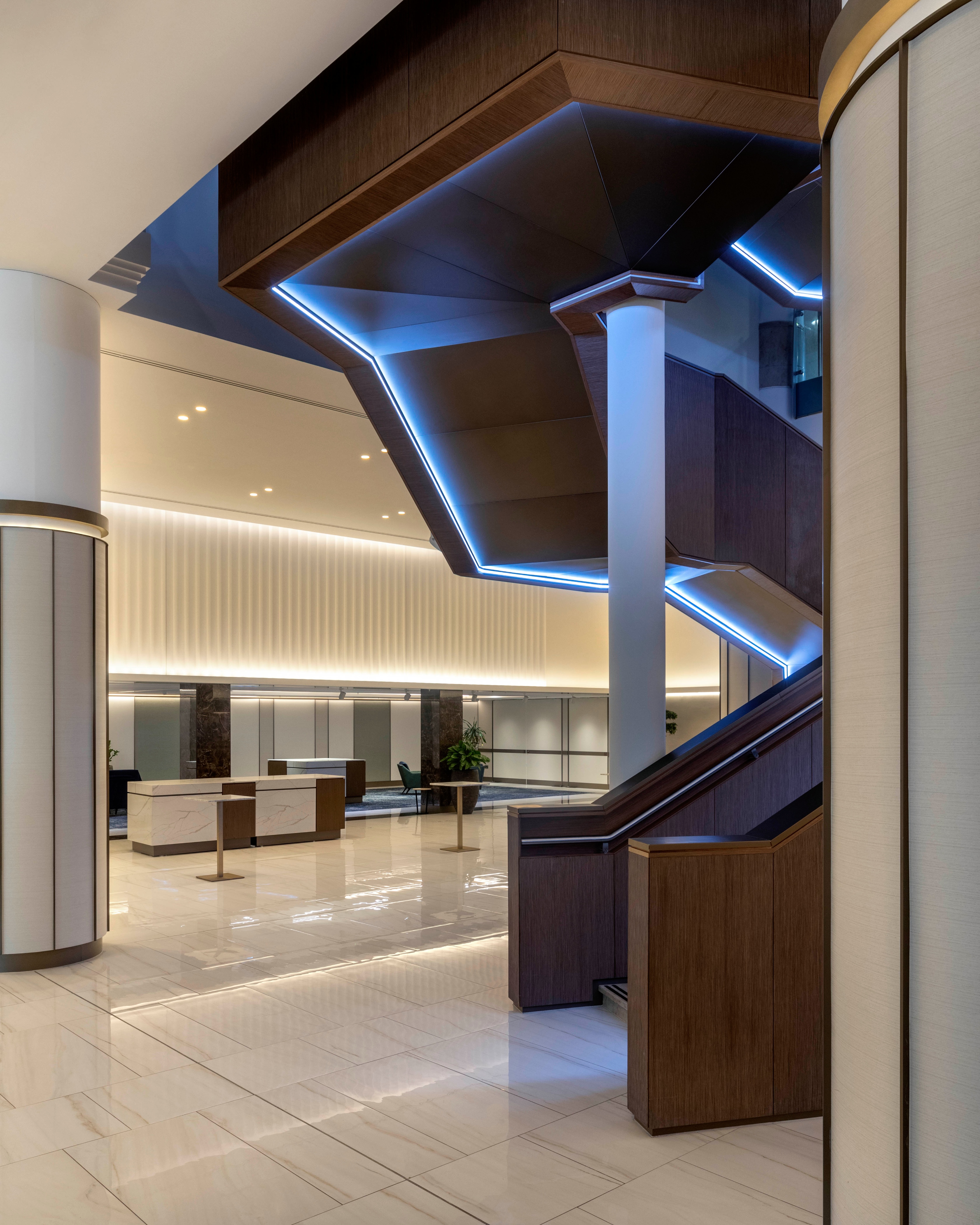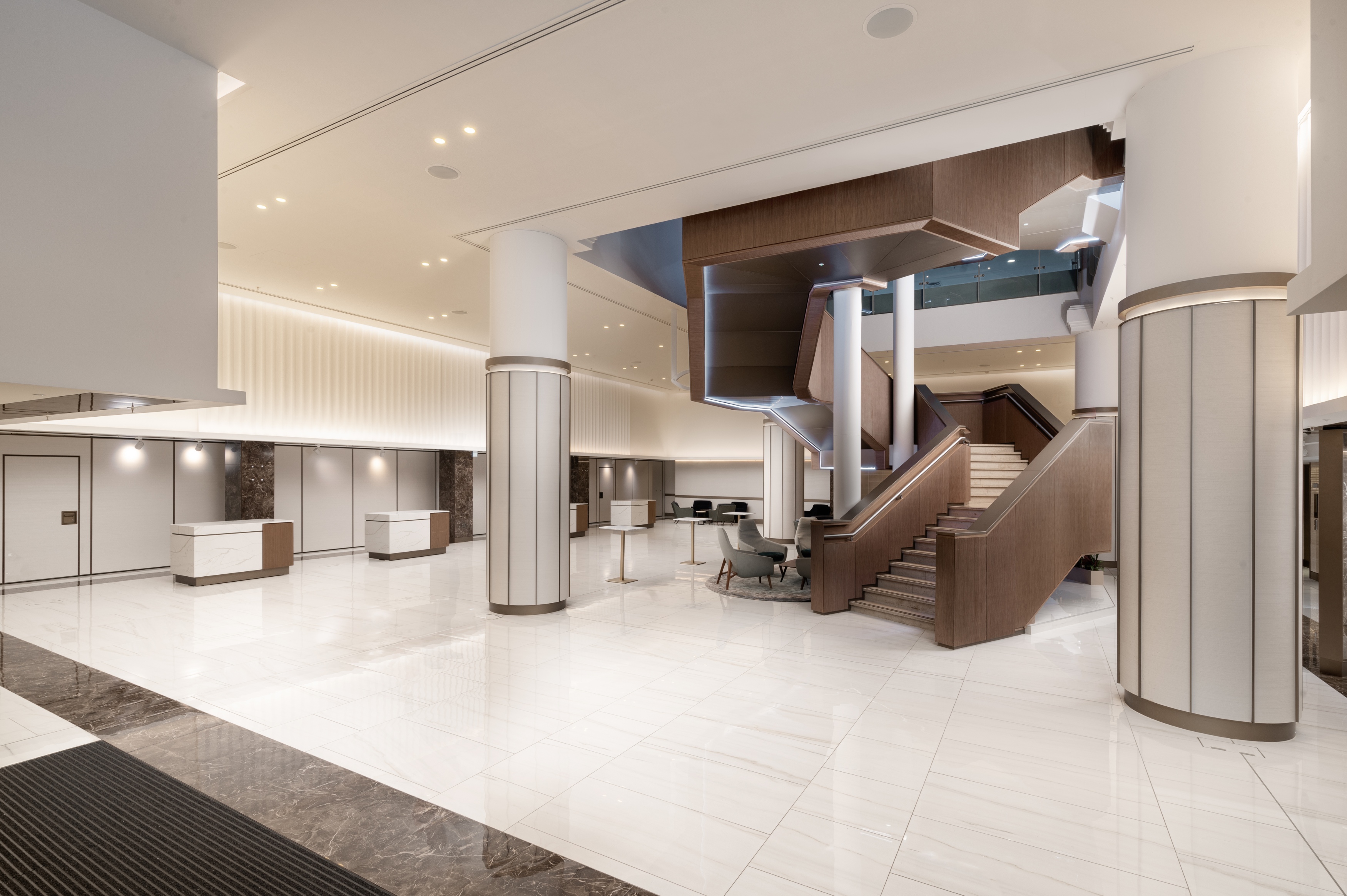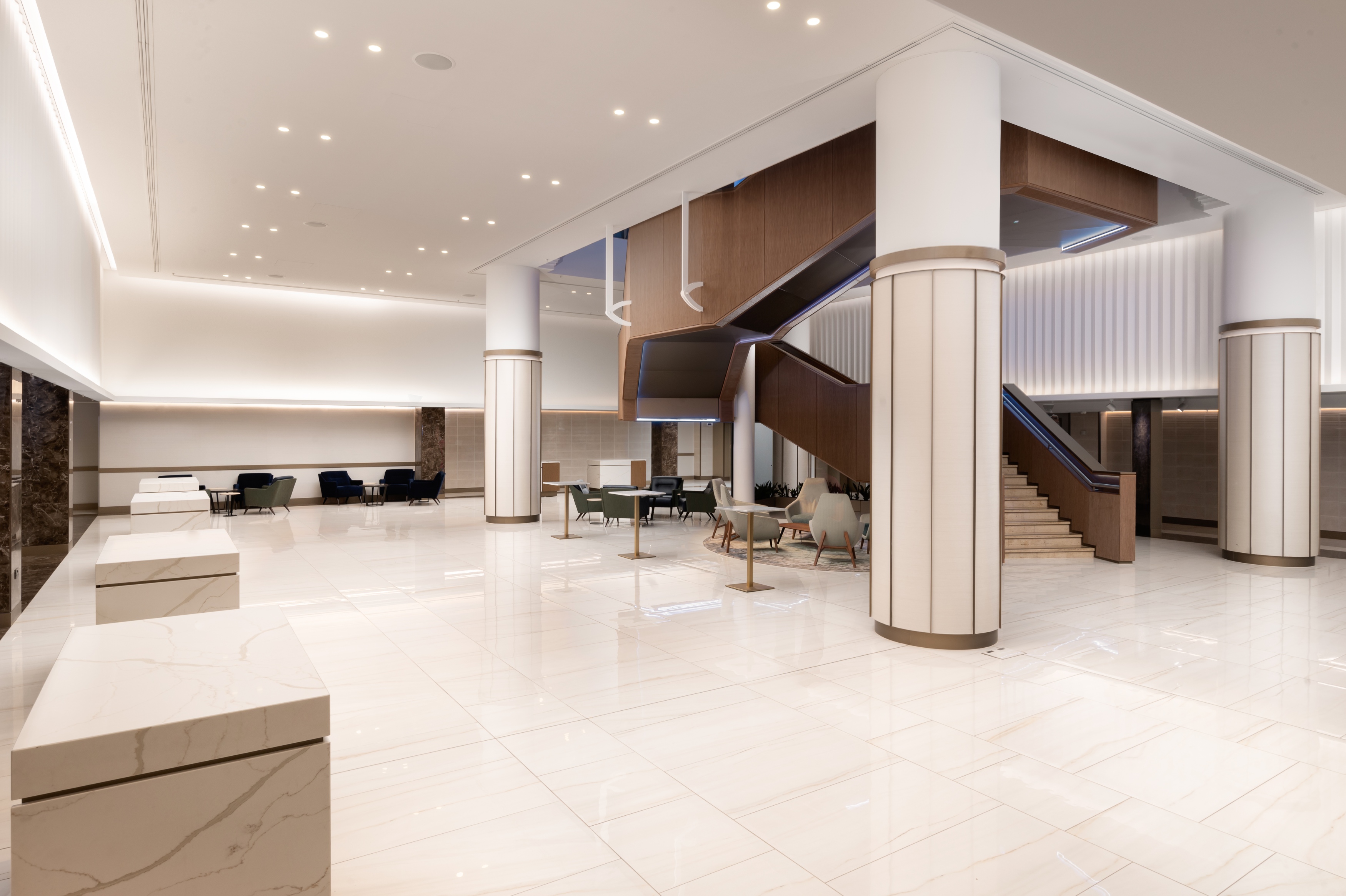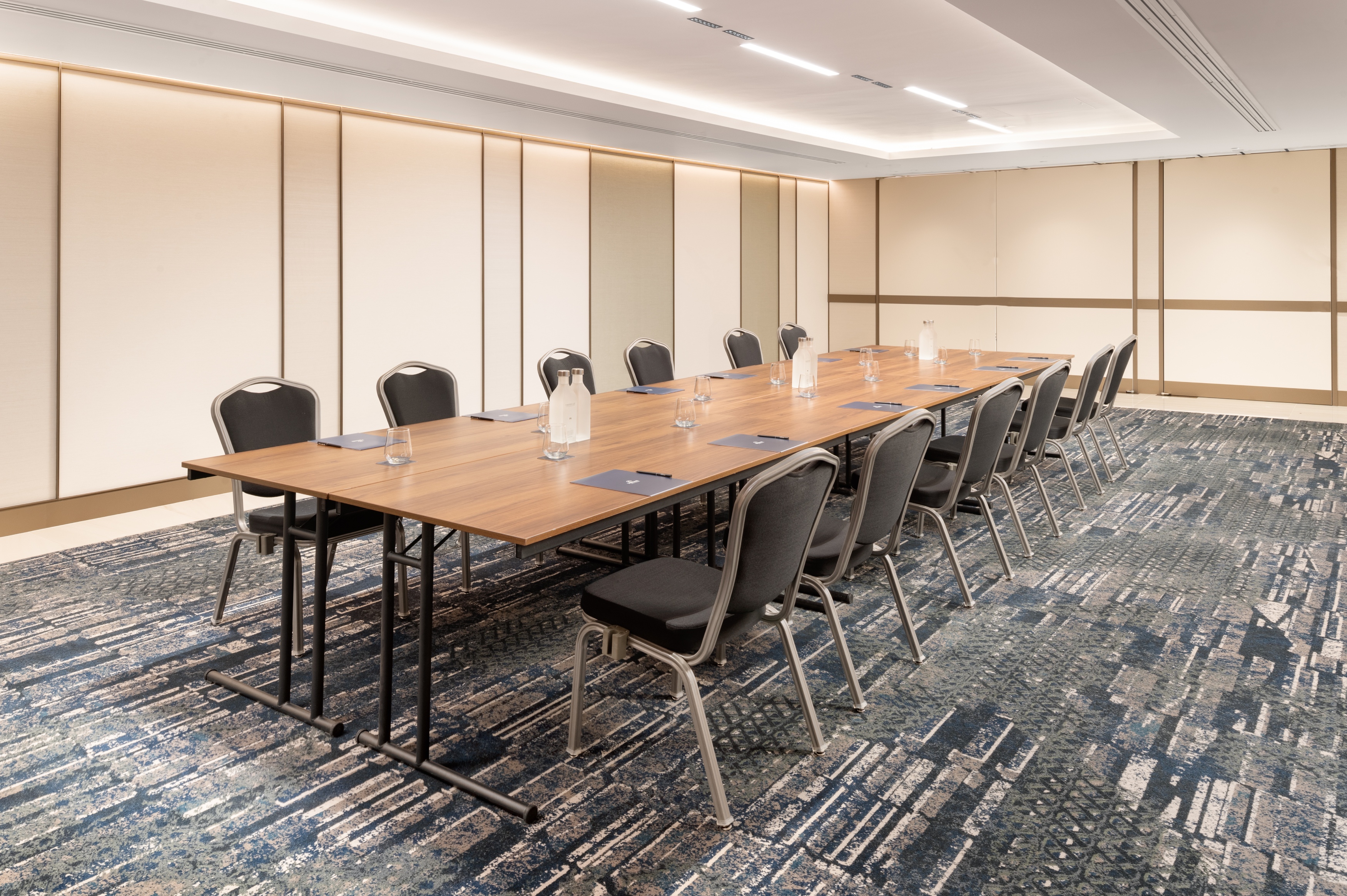 Hey, you! I'm pretty certain you'll want to look at this, the West Wing Lobby. The stunning multi-functional space has been designed with you in mind, yes you, so that we can adapt it to just the way you like it.
Host registration on day one, a lavish drinks reception on day two, before utilising it for exhibition space on day three. So, when can we book you in?
You know the infamous architecture that West London is known for? Magnificent? Elegant? Bright? Yep, those are the words I'm looking for. The influence is unmistakable when you step into the West Wing Lobby.
The stand-out show-stopper is the beautiful spiral staircase centrepiece, illuminated by light that floods in from the double-height entrance. It looks even better in person.
Dear Event Planner. Are you looking for a space that can be split off into a separate lobby and breakout space, with branding opportunities and its very own exclusive entrance? Yes, you heard me correctly! Well, the West Wing Lobby Meeting Rooms can host up to 50 guests in each or open up into one large meeting space for up to 100.
Better still, the foyer serves as the perfect area for a meeting breakout space. Now just look at that staircase…
West Wing has got all of your branding needs covered. The Clip rail around the ceiling allows multiple cords and hooks to brand the space however you want it. But that's not all; projection walls, free-standing banner space and even a private, dedicated event entrance complete the offering.
We haven't even mentioned the pretty staircase this time, but it was hard.
Key Features
Flexible
Two meeting rooms
Branding opportunities
Dedicated events entrance
Capacity for 400 guests
Self-contained space close to two largest ballrooms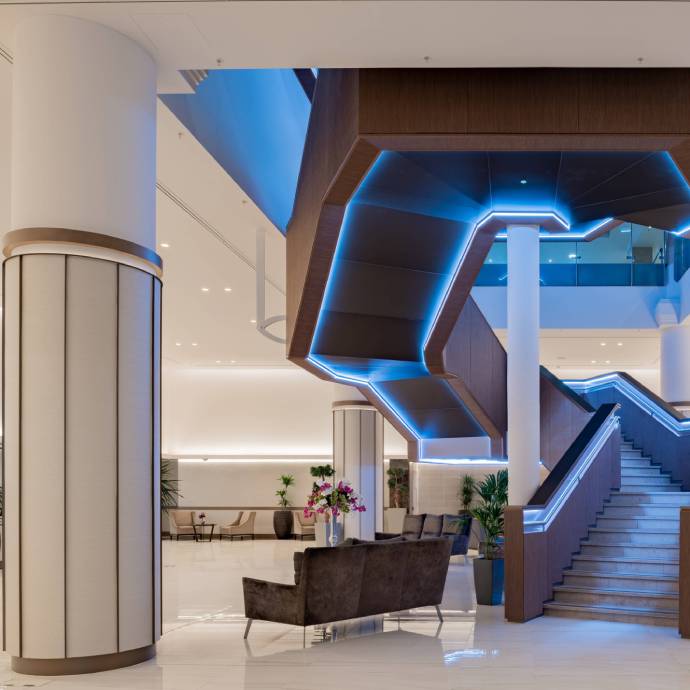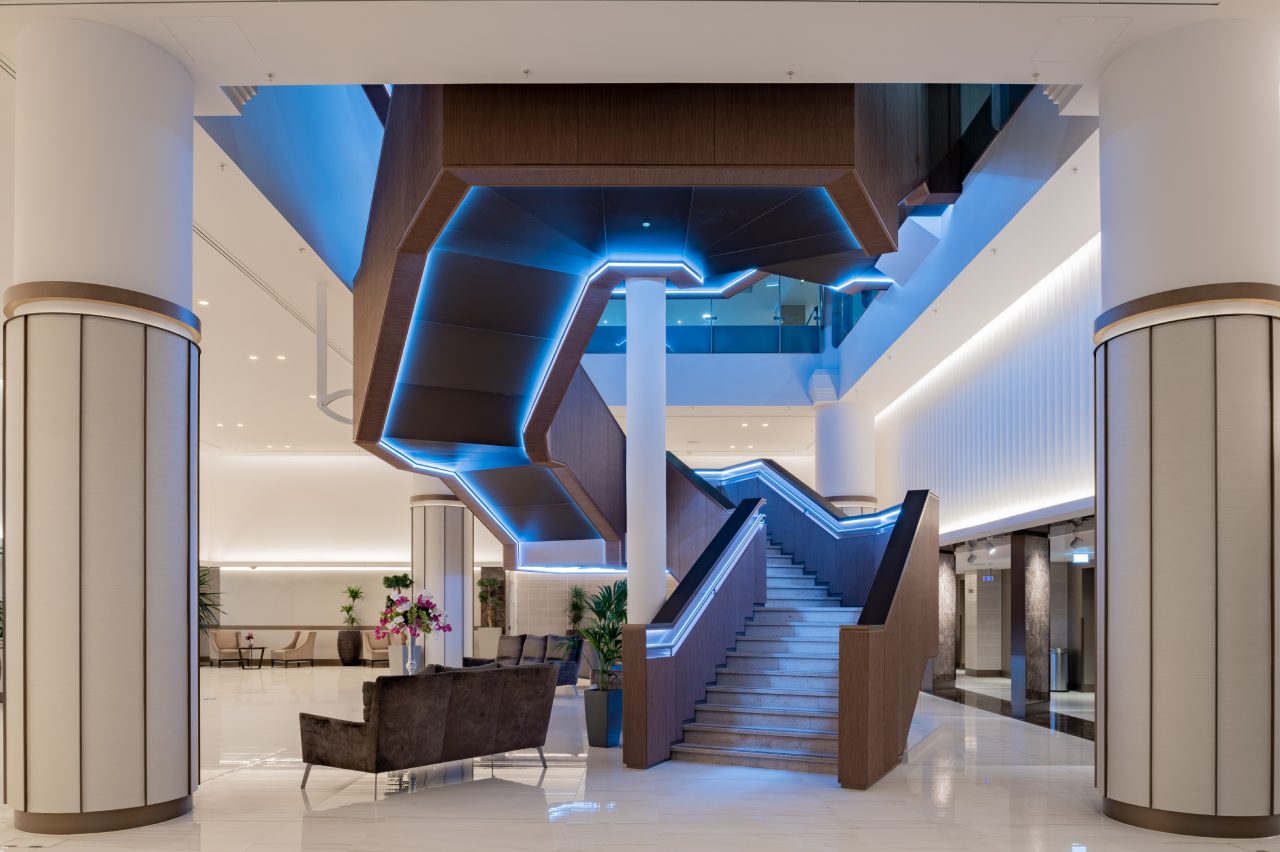 | Room Name | Theatre | Classroom | Cabaret | Rounds of 10 | Banqueting Long | Buffet | Reception | U-Shape | Boardroom | Dimensions (m) | Square Metres | Dimensions | Square Foot | Social Distance 2m Standing | Social Distance 1m Standing |
| --- | --- | --- | --- | --- | --- | --- | --- | --- | --- | --- | --- | --- | --- | --- | --- |
| West Wing Foyer and Meeting Rooms | - | - | - | - | - | - | 400 | - | - | 24.5x24.8x Ceiling 5.05 (Highest point) 2.4m (lowest point) | 525 | 80'38 x 81'36 x x Ceiling 16'56 (Highest point) 7'87 (lowest point) | 1,723 | 167 | 200 |
| West Wing Foyer | - | - | - | - | - | - | 300 | - | - | 24.5 x 19 x 5.05 | 474 | 80'38 x 62.34 x 16.56 | 1,555 | 151 | 150 |
| West Wing Meeting Room | 100 | 40 | 65 | 70 | - | 70 | 100 | - | 30 | 5.9 x 22.7 x 2.4m | 133 | 19'3 x 74'4 x 7'8 | 436 | 42 | 50 |
| West Wing Meeting Room 1 | 50 | 20 | 30 | 30 | - | 30 | 50 | - | 25 | 4.85 x 11.5m x 2.4m | 66 | 15'9 x 37'7 x 7'8 | 217 | 21 | 25 |
| West Wing Meeting Room 2 | 50 | 20 | 30 | 30 | - | 30 | 50 | - | 25 | 4.85 x 11.5m x 2.4m | 67 | 15'9 x 37'7 x 7'8 | 220 | 21 | 25 |
| | | | | | | | | | | | | | | | |
Scroll